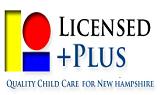 Welcome to the Licensed Plus Program application and information page. The Licensed Plus Program has been temporarily reinstated during the quality recognition and improvement program evaluation period. Programs have the option to participate in either this program (which will end at a "yet to be determined" date) or enter into the Granite Steps for Quality Program. Click here to visit the Granite Steps for Quality Page.
The Licensed-Plus Quality Rating is a visible way of recognizing child care programs who are working to improve quality of care for young children by exceeding minimum Child Care Licensing rules and documenting compliance with defined, researched-based standards that can be measured and communicated to parents and families. Programs that are designated as Licensed Plus receive an incremental payment for each child on the NH Child Care Scholarship they are serving at the time of billing. Programs not serving children on the NH Child Care Scholarship do not receive any funds.
Who can apply for a new or renewed Licensed Plus designation?
Any licensed child care center or licensed family child care program that would like to participate in the temporary program that meets the following criteria:
Enrolled as a provider in the New Hampshire Child Care Scholarship Program;
Are not participating in the Granite Steps for Quality Program.
Hold a valid child care license from the New Hampshire Child Care Licensing Unit, license-exempt programs are not eligible.
This designation will be valid until a "yet to be determined" date and the Department reserves the right to end the program, with notification, any time on or after September 30, 2024
How do I apply for the Licensed Plus designation?
Select the appropriate application for your type of program and read the full instructions. Complete the application and submit by mail to:  
Attention: Licensed Plus Program Coordinator, Bureau of Child Development and Head Start Collaboration, NH DHHS
129 Pleasant Street
Concord, NH 03301
Who is currently a designated  Licensed Plus provider?
All programs currently (as of June 19, 2023) eligible to or are receiving Licensed Plus payments and have had their Licensed Plus designation extended to September 30, 2024. If the program continues beyond that date, programs may be required to apply for a renewal. Notification of this renewal requirement will be made by email no later than April 30, 2024.  If you are unsure if you are in this category, please email us at [email protected].
No program is required to participate in the Licensed Plus Program or Granite Steps for Quality.