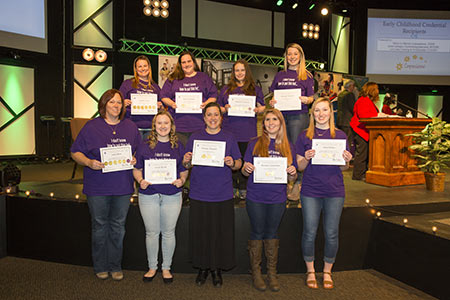 General Credentialing Information
The NH Early Childhood Professional Development System is a way to recognize individuals for their professional development while providing a process for attaining a professional Credential.
The following documents can help support you in obtaining a professional Credential:
Requesting Transcripts for Closed High Schools, Colleges and Universities:
To view the NH Specialized Competencies books click on the link below:
Please contact the Credentialing Specialist of the Bureau of Child Development and Head Start Collaboration, Annie Censullo, with any questions at: [email protected].
Child Care Aware of NH can also offer Technical Assistance in obtaining a Credential. For assistance, contact us by using the Contact tab at the top of this page. Please email Credential Challenge Applications to [email protected].org.
"Credentialing Matters!" was offered on February 8, 2023. In this training, we delved into why credentialing matters. We explored each component of the credentialing system and the significance that each part brings. We then examined the multiple benefits of getting a credential and learned how a NH Early Childhood Professional Credential can bring value to you and quality to the profession. 
At this time, Child Care Aware of New Hampshire is suggesting that individuals submit their Credential Application along with supporting documents via US Mail, rather than submitting through NHCIS. 
Applications may be mailed to:
DHHS/DCYF/Child Development Bureau
ATTN: Credentialing Specialist
129 Pleasant Street
Concord, NH 03301
Electronic Transcripts may be sent to:
[email protected]
OR