What are "Quality Early Childhood Programs?"
Quality early childhood programs provide experiences that optimize each child's development, learning and health, engage families and communities in partnerships while cultivating life-long learners and productive members of society.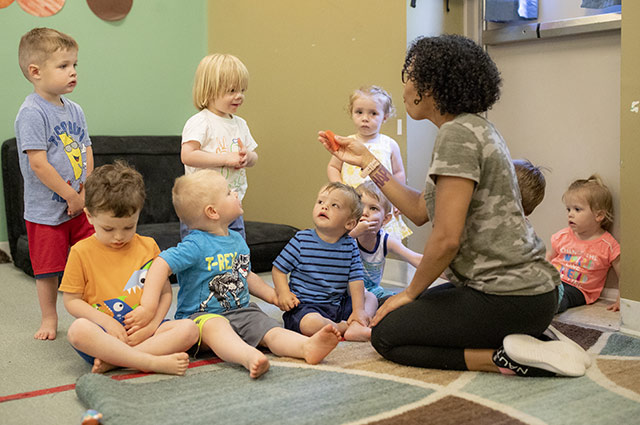 NH's Quality Recognition and Improvement System (QRIS)
NH has a new voluntary quality recognition system for licensed child care providers, known as Granite Steps for Quality (GSQ). Formally, NH had three (3) designations for quality child care: Licensed, Licensed Plus, and Accreditation (accredited programs). With this new QRIS, programs will focus on two quality standards which will promote a culture of continuous quality improvement. This focus will help improve the overall quality of Early Care and Education and Out-of-School Time programs in the state, thereby improving outcomes for children and families.
The GSQ system is now open for applications. Please apply for the GSQ using the printable application links below. At this time NHCIS online applications are paused until further notice.
Please mail your Application to:
DHHS/DCYF/Child Development Bureau
ATTN: Credentialing Specialist 129 Pleasant Street Concord, NH 03301
Granite Steps for Quality Announcements and Updates
Read more about important announcements and updates about Granite Steps for Quality (GSQ).
Granite Steps for Quality Quarterly Incentive Invoices
Professional Development Opportunities:
Programs that are applying for a step in the Granite Steps for Quality System, the program administrator must complete two (2) Business Practices Trainings – available on 
ProSolutions
.
Accepted Business Practices Trainings are as follows:
Taking Care of Business: An Administrator's Overview
Leading With Heart: How to Build Effective Teams
Successful Coaching and Mentoring for Employee Growth
An Administrator's Overview of Assessment in Early Care and Education
Creating a Business Plan for Your Family Child Care Program**
Budgeting and Financial Planning for Your Family Child Care Program**
** These two (2) Business Practices Trainings are only accepted for Family Child Care Programs
Upcoming Intro and Overview of Environment Rating Scales Training Opportunities
Upcoming Intro and Overview of ERS & SACERS Virtual Trainings