Professional Development (PD)
Child Care Aware® of New Hampshire is dedicated to improving the quality of care that is available to families and children. Much of this commitment is reflected in our work with child care providers across the State. Some of the services we offer child care providers are:
Training and Professional Development
Child Care Aware® of New Hampshire provides training and professional development opportunities from September to June to assist providers in enhancing and increasing their competencies. Professional development opportunities include:
All opportunities offered satisfy at least one of the Core Knowledge Areas according to the NH Early Childhood Professional Development System and Child Care Licensing training requirements.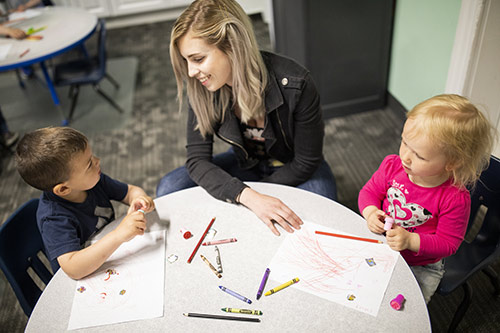 Technical Assistance, Coaching and Consultation Services via on-site, virtual, phone and/or email support
Technical Assistance to providers can be done through phone, email, personal on-site visits and/or virtually. Our Training & TA Specialists can answer questions and provide information and resources on providing quality child care. This enhanced form of professional development comes in a variety of forms such as:
Progressive Training and TA Program
Early Childhood Virtual TA Cohorts
Communities of Practice
Early Childhood Focused Collaboratives
Our Focused Collaboratives are meetings that are held once per month from September to June. Each of these meetings focus on a specific topic. These meetings generate relevant conversations around the specific topic, professional development opportunities, CCAoNH program updates and local and State information.
Early Childhood Focused Collaborative Meetings Topics:
Infant and Toddler Programming and Curriculum
Family Engagement and Communication
Business Management Practices
Preschool Programming and Curriculum
Family Child Care
Social Emotional Topics
Check out our definition sheet that breaks down all of the professional development opportunities that CCAoNH offers.
Child Care Aware® of New Hampshire offers multiple monthly newsletters to match the needs of child care providers. To learn more and sign up, click here. 
A Lending Library is maintained that can be accessed by providers looking for resources, books, videos, etc. to support their needs as an early childhood educator.
Referrals to Community Resources and Supports
Referrals to Community Supports and Resources can be provided to providers seeking assistance with their work caring and educating NH's children and families. You can also check out our resources pages on the website.
Be sure to contact Child Care Aware® of New Hampshire to take advantage of all of these services and more!